2016-07-26 20:01:17 (Link to this story)
Bug Cleaning & New Features
I'm sorry for my extended away from the site. I'm back though and have some plans for SketchCollectors.com!

First up, I have just finished going through all of the bugs you have sent me and all artists and new sets should be cleared up! This means that everyone should be able to go through and edit any cards you've uploaded and select an artist or set that was missing previously. I've also updated the set groups at the top of the page so that if you select "** DC Sets **", for example, you'll now see all of the DC-related cards correctly.

Next up, I will be fixing the comments system which has been busted for quite some time. I'll send out notification when this is ready to go again. This is a members-only feature but I am considering freeing it up for all. Your input on this is welcome.

How about bigger card uploads?! It's been requested by a subscriber that upload image size be increased. I think this is a great idea considering that monitors are getting bigger and resolutions are getting higher. Exactly how big is unknown but I'll be sure to let everyone know in a future update.

Finally, I will be adding a new and DIFFERENT kind of gallery to the site that will appeal to a subset of collectors already members here as well as bring in even more new collectors! Stay tuned, I'm really excited about this one!

STATS!
So we've recently passed the 75,000 card mark! That's amazing and I'm thrilled that so many collectors still use this site and keep it growing! There are 911 total user accounts with 33 users currently supporting the ongoing maintenance and hosting fees through their subscription. Thank you all in particular! There are over 171,000 files in the gallery directory that total over 6.2GB of data. 297 sets and 1,875 artists are in the drop down boxes.

Thank you all and please email me any questions, concerns, etc. Please continue to submit specific bugs, artist requests, set requests, etc. through the web form. I know I still have some feature requests to respond to and I plan to address those as soon as I can.
2010-08-25 11:30:59 (Link to this story)
Sketch Collectors Promo Card P01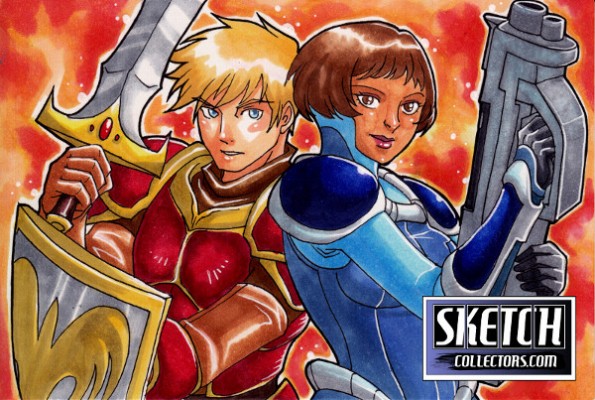 The first Sketch Collectors promo card is now available! The front art was completed by one of my favorite artists, Irma "Aimo" Ahmed! These are two original characters created by Irma for this card with a little direction by myself. I will have plenty, but once these are gone, they're gone and I will print a second promo by another artist. The first convention this was available at was Star Wars Celebration 5 and it will also be available at Dragon*Con.


2010-08-18 23:20:56 (Link to this story)
Indiana Jones Masterpieces Artists
The other day I was wondering if there was an artist list for the Indiana Jones Masterpieces set. After checking Topps' site and finding none, I e-mailed them and they quickly provided a list. Many thank to David for the following:

Allison Sohn
Agnieszka Garbowska
Ben Curtis Jones
Brandon McKinney
Brent Engstrom
Brent Woodside
Brian Denham
Brian Kong
Brian Miller
Brian Rood
Bruce Gerlach
Bryan Morton
Carlo Sinfuego Soriano
Carolyn Edwards
Cat Staggs
Chris Henderson
Cynthia Cummens
Dan Bergren
Daniel Cooney
Davide Fabbri
Dennis Budd
Don Pedicini Jr.
Dwayne Clare
Edward Pun
Gabe Farber
Erik Maell
Gabe Hernandez
Howard Shum
Ingrid Hardy
Irma Ahmed
Jake Myler
Jamie Snell
Jason Davies
Jason Hughes
Jason Sobel
Javier Guzman
Jeff Carlisle
Jeff Scott Campbell
Jerry Vanderstelt
Jessica Hickman
Jim Kyle
Joanne Ellen Mutch
Joe Corroney
Joel Carroll
John McCrea
John Watkins-Chow
Jon Ocampo
Jonathan Morris
Justin Orr
Karen Krajenbrink
Kate Bradley
Kate Glasheen
Katie McDee
Ken Branch
Kevin Caron
Kevin Doyle
Kevin Graham
Kyle Babbitt
Lance Sawyer
Laura Martin
Leah Mangue
Lee Kohse
Lisa Redfern
Mark McHaley
Mark Walters
Matt Minor
Michael Duron
Mike Antrim
Nicole Falk
Noah Albrecht
Otto Dieffenbach
Patrick Richardson
Patrick Schoenmaker
Paul Gutierrez
Randy Martinez
Rich Molinelli
Rich Woodall
Sarah Wilkinson
Scott Zirkel
Spencer Brinkerhoff
Ted Dastick
Tod Smith
Tom Hodges
William O'Neil